It's been a year exactly since I migrated Asia DREAM Radio Japan to Radionomy from Live365. At that time I felt the writing was already on the wall for Live365, and besides, Radionomy just looked like a more interesting platform to be on anyway.
Listening figures have grown exceptionally well and are now fantastic to say the least. Peak time in the past few weeks has been particularly excellent, hitting new audience highs for the station.
Asia DREAM Radio Japan has also made it onto the featured section of Radionomy's home page for a second run. Many thanks for that to the people at Radionomy. Much appreciated. Here's to further growth in year 2 during 2016.
どうもありがとうございました
Cheers!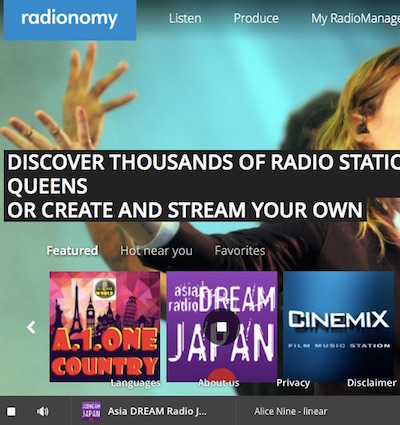 _________________
asia DREAM radio stations
Website:
http://asiadreamradio.com
Follow on twitter: @asiaDREAMradio
Like on Facebook:
https://facebook.com/asiadreamradio
Google+
http://goo.gl/XX5qD3
J-Rock your world:
https://plus.google.com/+JRockasiaDREAMradio/